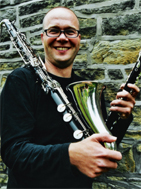 Bernd Spehl, (clarinet, recorder and vocals) considers himself a dance musician in the truest sense of the word. This characteristic makes him the perfect clarinettist for the 'Klezmer Alliance', whose style is deeply rooted in the dance traditions of Yiddish music.
Bernd has published 3 CDs with 'A Tickle in the Heart' . His exceptionally rich repertoire of Klezmer music has been put together from different sources including transcriptions of old ´78 records of the music of Naftule Brandwein, Shloimke Beckermann and Dave Tarras.
In the last 7 years, Bernd has performed within Germany and the whole of Europe in around 500 recitals for occasions including concerts, weddings, barmitzvahs and many other simchas. He has been praised for his beautiful tone, high virtuosity and yidishe neshome (yiddish soul) in his playing. He has participated in several European festivals in Munich, Fürth, Berlin, Dresden, Amsterdam and London of Yiddish and Jewish culture.
His travels have also taken him to New York City where he received mentorship from two American Klezmer greats, the late Howie Lees and Ray Musiker and he has also participated in a variety of Klezmer workshops in Europe. During the years 2003 – 2006, Bernd has celebrated numerous highly successful tours with Yiddish story teller Pesakh Fiszman from New York. Bernd can also be heard at sessions with Bessarabian clarinettist German Goldensteyn in Brooklyn, NY and one can spot him in his hometown of Cologne, travelling on the tram singing with members of the Cologne Synagogue Mameloschn Yiddish Club.
"clarinetist Bernd Spehl is a standout performer on the album" (Seth Rogovoy in Berkshire Jewish Voice, Shevat/Adar 5768)